It is being reported that President Trump is seeking to impose tariffs on up to $60 billion in Chinese imports and will target the technology and telecommunications sectors.
While the tariffs would be chiefly aimed at information technology, consumer electronics and telecoms, they could be much broader. The White House declined to comment on the size or timing of any move, but some form thereof is on the way.
As can be expected, China is not taking these threats lightly. Chinese foreign ministry spokesman Lu Kang said that Sino-U.S. trade relations should not be a zero-sum game, and that the two countries should use "constructive" means to manage tension. "We have said many times that China resolutely opposes any kind of unilateral protectionist trade measures," Lu stated. "If the United States takes actions that harm China's interests, China will have to take measures to firmly protect our legitimate rights."
President Trump's team is targeting Chinese technology companies to punish China for its investment policies that effectively force U.S. companies to give up their technological secrets in exchange for being allowed to operate in the country, as well as for other intellectual property practices which Trump and his advisors consider unfair.
China runs a $375 billion trade surplus with the United States, and when President Xi Jinping's top economic adviser visited Washington recently, the administration pressed him to come up with a way of reducing that number. Mr. Trump ran his campaign on many promises, one of which was to shield American workers from cheap imports, or dumping, and his first action as president was to pull the United States out of the 12-country Trans-Pacific Partnership trade deal.
While the recently announced tariffs on steel and aluminum are viewed as relatively insignificant in terms of imports and exports, moves to target China directly risk a direct and harsh response from Beijing. U.S. House Ways and Means Committee Chairman Kevin Brady stressed that President Trump was serious about addressing the issue of intellectual property theft with China. "He's serious about calling their hand on this, and my understanding is they are looking at a broad array of options to do that," Brady said.
Shortly after Trump took office, the Information Technology & Innovation Foundation (ITIF), a U.S. technology think tank whose board includes representatives from top companies such as Apple (NASDAQ: AAPL), Amazon (NASDAQ: AMZN), Cisco (NASDAQ: CSCO), Google (NASDAQ: GOOGL) and Intel (NASDAQ: INTC), called for coordinated international pressure on Beijing. It is no secret that China pirates American technology and has been doing so for decades.
Up until Trump's election to office, former U.S. presidents did little or nothing to stem the rate of theft from leading tech companies. It now seems to be high noon for the tech pirates, and it's about time.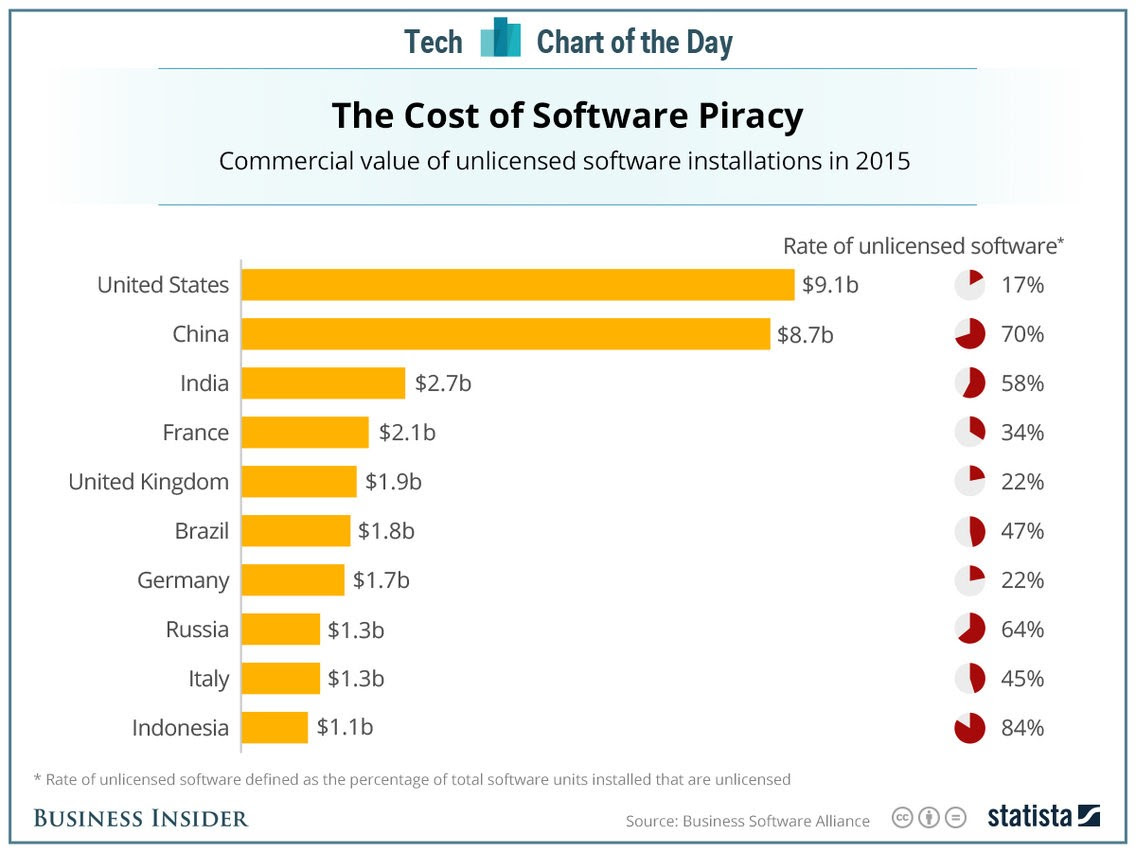 According to data compiled by Statista, software piracy is a lot more rampant in China (70%) than the United States, but the value of unlicensed U.S. software is still the highest in the world. The chart above shows the global picture. The United States has such a huge economy, and uses so much software, that even though the rate of unlicensed software is only 17%, the value of that software is over $9 billion. Countries like China, India, Russia and Indonesia have higher rates of unlicensed use, but the value is a lot less.
The recent appointment of Larry Kudlow to replace Gary Cohn as the president's top economic advisor is a good move. Kudlow holds an anti-tariff position and will likely act as a counter to Trump overdoing it when it comes to imposing tariffs. A more measured approach with Kudlow's assistance will probably be the course of action, and the markets are warming up to this notion after enduring a few days of tariff-related selling pressure. Plus, Larry Kudlow is a Reagan-era supply-side economist, which also favors stock market bulls.
It is interesting to note that during this past week, with the S&P and Dow lower, many leading tech stocks traded higher on the notion that new protections and trade rules for the U.S. tech industry are forthcoming. Having to divulge technological secrets and patents in order to do business in China has always been a bad idea, and now it appears that this structure is about to undergo a radical change — and tech stocks are ramping higher as a result. There will be more clarity on this fluid situation in the days ahead, but the market isn't waiting.
Income investors that want to capitalize on this disruptive new path for technology can do so by selling volatility back to the market in the form of covered call options. It is a great way to generate immediate income on a monthly basis from the best technology stocks that are showing the strongest revenue and earnings growth. As market volatility rises, option premiums expand, or increase, in value. Instead of paying up for call options, the better idea is to sell expensive, short-term, out-of-the-money calls on the best tech stocks.
My Quick Income Trader advisory service puts this idea into action. Week after week, I run a portfolio of no more than seven covered-call trading strategies that buy great tech stocks such as Intel, PayPal and Applied Materials, and then I recommend a specific call option to sell against the underlying stock. Having several of these strategies in play at once can fuel one's monthly income to the point where it is very possible to double the principal invested just from the monthly option premiums collected over the course of a year. Click here and find out how to put your investing capital to work where the action is — high-tech income.