With the economy in turmoil, picking the right investment equities is more important than ever and the nine best dividend stocks to buy now discussed below offer good diversification and potential to offset any asset depreciation with robust income distributions.
Advertisement.
Many income investors seek equities that offer high dividend yields and sustainable payouts. However, investors also should consider long-term returns and proper fit within an individual portfolio strategy.
These considerations are even more important during market volatility, such as the current economic instability. Therefore, the nine best dividend stocks to buy now offered by three financial experts identify equities that meet certain common criteria — rising dividend policies, value and high income.
9 Best Dividend Stocks to Buy Now: Value
Advertisement.
Hilary Kramer, host of the weekly national radio program, "Millionaire Maker,"  and leader of the Value Authority investment advisory service stated that "dividend payments are critical now because we face less certain capital gains in the coming years. Dividends will be a more important part of total returns."
The Fed will likely keep rates at 0% for at least two years. Therefore, investors will chase yields wherever they can be found, Kramer continued. She recommends dividend-paying stocks that offer robust value. These stocks have strong track records and provide goods or services that should remain in demand despite the current coronavirus crisis that has limited economic activity overall and has brought business in some segments like travel, hospitality and restaurant industries to a virtual standstill.
With these considerations in mind, Kramer, who also leads the GameChangers advisory service, identified the following three stocks that offer good value and have potential to deliver above-average total returns once the economy embarks on a road to recovery.


Paul Dykewicz interviews money manager Hilary Kramer, whose premium advisory services include 2-Day Trader, Turbo Trader, High Octane Trader and Inner Circle.
3M Company Ranks Among the 9 Best Dividend Stocks to Buy 
One of Kramer's "best dividend stocks to buy now" is the 3M Company (NYSE:MMM), of St. Paul, Minnesota. 3M focuses on using science to provide an array of products through four business segments — Safety & Industrial, Transportation & Electronics, Health Care, and Consumer Products.
The company has gained public attention for its role in providing highly protective N95 masks, called respirators, that doctors, nurses and other health care workers urgently require to avoid contracting the new coronavirus that causes COVID-19 disease. 3M withdrew its full-year 2020 guidance due to COVID-19 uncertainties.
However, 3M outperformed analysts' consensus sales and earnings estimates when it reported first-quarter 2020 results on April 28. The company's sales reached $8.1 billion, up 2.7% from the same quarter a year ago, while boosting its earnings per share (EPS) on a Generally Accepted Accounting Principles (GAAP) basis to $2.22, versus an adjusted $2.16 for the comparable quarter last year. Its operating cash flow of $1.2 billion in first-quarter 2020 jumped 16% from the same period last year, with its adjusted free cash flow of $0.9 billion soaring 40% from last year's first quarter.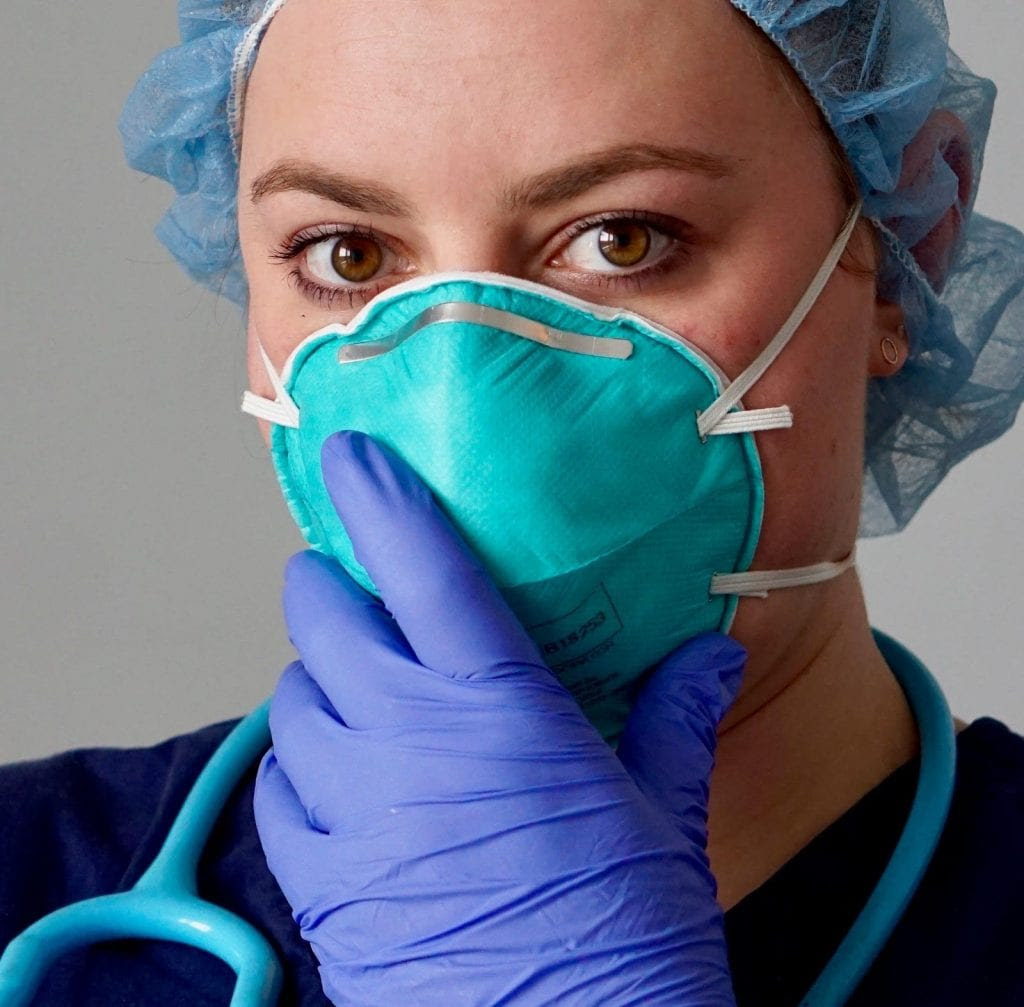 Health care workers worldwide have been pleading for protective masks. 
President Trump announced at an April 6 White House press briefing on the coronavirus that 3M agreed to provide an additional 55.5 million respirators per month for the United States for three full months. Most of them will be N95 respirators that filter out 95% of all particulates and may help to avoid transmission of COVID-19 from patients to health care workers.
"The company's strong franchises and solid financial position should continue to allow it to be a steady performer this year," Kramer told me. "Let me also say that while the company's mask business has gotten the company both favorable and unfavorable attention in recent weeks, I only expect this business to be modestly additive to earnings this year. Furthermore, I anticipate that any unfavorable attention the company is currently getting will fade."
3M has paid dividends to its shareholders without interruption for more than 100 years and increased its annual dividend for 61 consecutive years. Just over the past two decades of consecutive annual boosts, the company has enhanced its annual dividend payout amount more than five-fold. This pace corresponds to an average dividend growth rate of 8.5% per year.

Kramer indicated that "the company has a strong balance sheet, and free cash flow is 100% of net income."
"Therefore, I believe the very attractive 3.8% dividend yield is safe, with the company retaining solid profitability through the downturn," Kramer continued. "Longer term, relatively new CEO Mike Roman will initiate actions to resume the company's growth."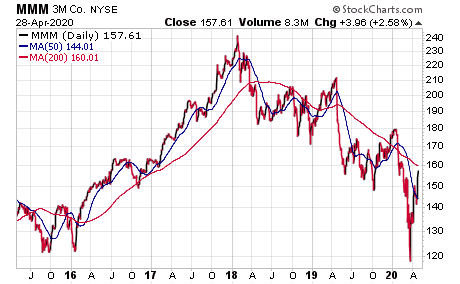 Chart courtesy of www.StockCharts.com
"We appreciate and admire everything our heroic nurses, doctors and first responders around the world are doing to fight COVID-19," Roman said when he opened his first-quarter 2020 earnings conference call on April 28.
3M's "critical responsibility" in COVID-19 pandemic preparedness and response has been guided by a commitment to the safety of its employees, by a sense of urgency to protect health care workers and first responders and by maintaining business continuity for its customers and shareholders, despite the economic slowdown, Roman said.
In January, 3M doubled its global output of N95 respirators to 1.1 billion per year, or about 100 million per month, including 35 million per month in the United States, Roman said. The company is coordinating with the U.S. Department of Defense to double annual production to 2 billion by the end of 2020, with additional capacity already ramping up. By June, 3M will be producing roughly 50 million N95 respirators per month, up 40% from levels on April 28, he added.
"We are also partnering with other companies on innovative solutions to protect those on the front lines," Roman said. "In collaboration with multiple sterilization companies, we have introduced new methods for hospitals to safely clean and reuse their N95 respirators."
In addition, 3M is teaming up with Ford (NYSE:F) and Cummins (NYSE:CMI) to expand production of powered air purifying respirators to increase capacity ten-fold in the next 60 to 90 days, Roman said. Even with 3M's stepped-up output, global demand for respirators "far outpaces" what all manufacturers can deliver, he added.
"That is why, as we urgently expand capacity, we are also prioritizing and triaging our supplies to the most critical needs," Roman said. "We moved quickly, within days of regulatory approval, to redirect more than 90% of our respirators into health care, with the rest deployed to other critical industries, such as energy and food."
General Mills Rated as One of the 9 Best Dividend Stocks to Buy Now 
The Minneapolis, Minnesota-based food products company General Mills (NYSE:GIS) features some of America's best-known brands, including Cheerios, Häagen-Dazs, Yoplait, Pillsbury and Betty Crocker, while offering no economically cyclical exposure. In addition to producing relatively consistent low-unit growth for the last few years, General Mills can benefit from the trend of consumers shopping from home amid the coronavirus outbreak.

In addition, the company's current yield of 3.3% could be enhanced with potential dividend increases of 2%-3% per year, Kramer predicted. General Mills also has been boosting its product line in recent years to include healthy foods, such as Nature Valley granola bars and Cascadian Farm organic frozen vegetables and cereals, that offer further growth potential.
General Mills has failed to hike its annual dividend only four times over the past two decades. Plus, General Mills has raised its annual distribution nearly three-fold since 2000 and averages annual dividend growth of 5.2%.
Chart courtesy of www.StockCharts.com
Analysts boosted the stock's price target to $61 from $57 at RBC Capital Markets, to $59 from $58 at Piper Sandler and to $58 from $54 at Stifel Nicolaus on March 20. COVID-19 caused volatility for the company's stock price but did not stop it from rising, as the preceding chart shows, even though the number of U.S. COVID-19 cases and deaths soared.
Genuine Parts Company Is Another of the 9 Best Dividend Stocks to Buy
Kramer also is recommending Genuine Parts (NYSE:GPC) — a distributor of automotive replacement parts — as one of the nine best dividend stocks to buy now. The company has been "very hard hit" by the coronavirus as the shutdown of part of the economy has led to "much less driving," Kramer said. The crisis is expected to have a significant impact on the company's earnings this year, but its 4.1% yield is simply too good to resist, she added.

"The company should remain profitable through the downturn and the dividend should be safe," Kramer continued. "Once there are signs the growth of the virus is slowing and we are closer to returning to normal economic activity, the stock should soar."
Genuine Parts, which also distributes industrial replacement parts and business products, announced after markets closed on April 6 that it was withdrawing guidance for the year due to the coronavirus. The company also indicated that it was suspending share buybacks, expanding the $100 million cost savings program that it announced last year and working with banks to comply with its loan covenants.
"On the bright side, the company said that it would pay its regular quarterly dividend of $0.70 a share on July 1 for shareholders of record on June 5," Kramer said. "The company will have new guidance for the year when it reports earnings on May 6."
Genuine Parts has paid dividends since 1948 and 2020 marks the 64th successive year it has increased its payout, according to www.dividendinvestor.com. At the company's February 17, 2020 board meeting, its directors voted to boost the cash dividend payable by 4% to an annual rate of $3.16 per share, compared with the previous dividend of $3.05 per share.
While the company's current liquidity remains strong, with approximately $1.0 billion in cash and unused credit as of March 31, 2020, it is collaborating with its banking and other partners for alternative forms of financing to stay in continued compliance with its debt covenants. Through these actions and its ongoing working capital initiatives, Genuine Parts announced it has enough liquidity to operate through the current uncertain times and continue to pay its dividend.


Chart courtesy of www.StockCharts.com
9 Best Dividend Stocks to Buy Now: Rising Dividends 
Mark Skousen, PhD, a presidential fellow in economics at Chapman University, the longtime editor of Forecasts & Strategies and the author of more than 25 books on economics and finance, has identified three stocks that have the fundamental characteristics to weather the current economic storm. In addition to the long streaks of rising annual dividend payouts, these three equities have high yields that have risen on share price pullbacks.
Among Skousen's picks are two health care stocks that appear to have the necessary immunity to survive current market volatility with no long-term ill effects. Skousen's third pick is a midstream services company in the oil industry. While oil prices have cratered recently, this company has strong financial fundamentals to endure the current pullback and to climb when the U.S. economy reopens.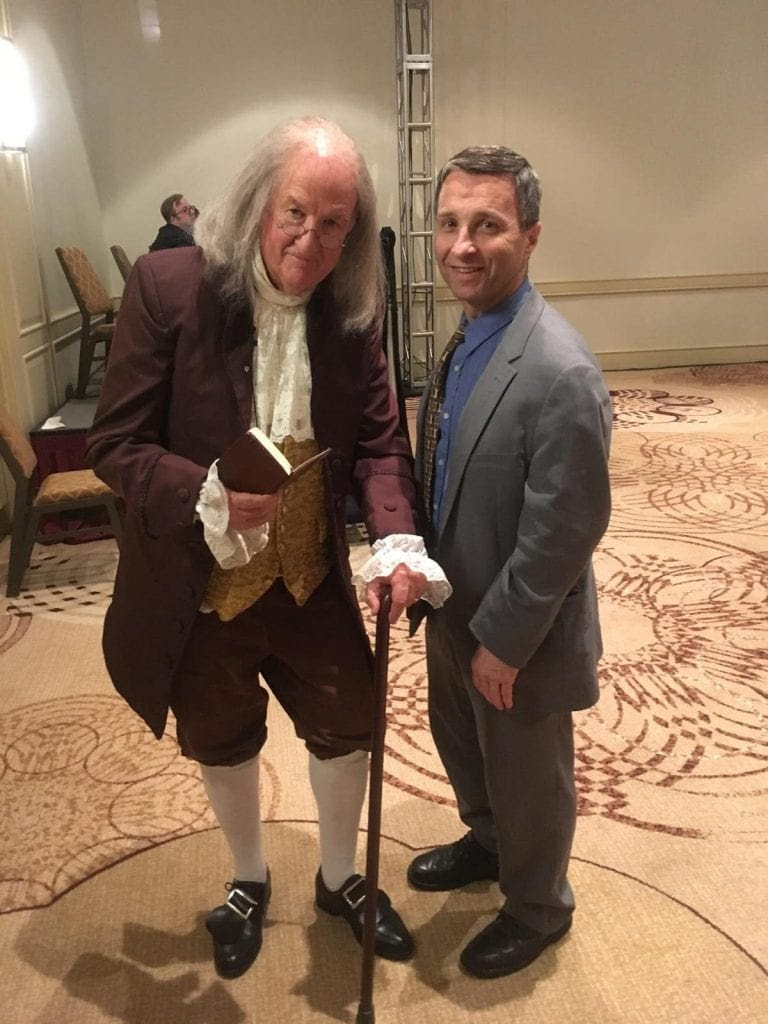 Mark Skousen, PhD, a descendant of Ben Franklin, meets with Paul Dykewicz. 
Pfizer Is One of the 9 Best Dividend Stocks to Buy Now
One of Skousen's favorite dividend stocks is New-York-based pharmaceutical company Pfizer Inc. (NYSE:PFE). The company currently offers a 4.0% forward dividend yield, which is 11.1% higher than Pfizer's own 3.6% five-year yield average. Pfizer reported first-quarter 2020 results that underperformed the same period last year as revenue fell to $12.0 billion, compared to $13.1 billion in Q1 of 2019, while Q1 2020 EPS of $0.80 fell below $0.85 in Q1 last year.

The company's $0.38 dividend payout in first-quarter 2020 marks a 5.6% boost over the $0.36 distribution from the previous period. Over the past decade, Pfizer has more than doubled its annual dividend payout amount, which is equivalent to an average dividend growth rate of 7.8% per year. Furthermore, despite a 50% dividend cut in 2009, the company has enhanced its annual payout more than four-fold over the past 20 years, which corresponds to a 7.5% average annual growth rate.
In addition to its past performance of delivering rising dividends, Pfizer is seeking to remain a leader in its market segment. The company has partnered with Germany's BioNTech to produce a vaccine for the coronavirus, also known as COVID-19. The companies announced that human testing of the potential vaccine is expected to start in early May.
Pending a successful outcome of these clinical trials, the companies are readying capacity to supply potentially millions of doses of the vaccine as soon as this fall and scale up production to hundreds of millions for 2021.
During the coronavirus pandemic, hundreds of millions of people around the world have been confined indoors, 3,138,115 individuals have tested positive for the virus and the death toll hit 217,970 as of April 28. The United States, with 1,035,765 COVID-19 cases and 59,266 deaths, by far is the country with the largest number of both. A vaccine to fight the virus would be immensely valuable and allow Pfizer and other potential providers of a treatment not only to save lives but to monetize their investment in research and development.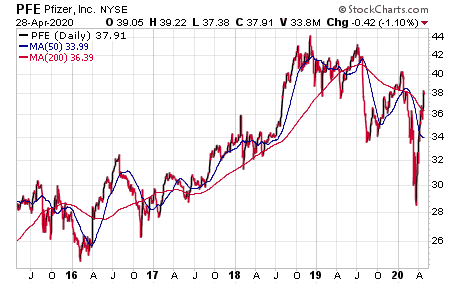 Chart courtesy of www.StockCharts.com
Omega Healthcare Gains Spot Among the 9 Best Dividend Stocks to Buy
Omega Healthcare Investors, Inc. (NYSE:OHI) is a real estate investment trust (REIT) that owns and leases approximately 1,000 long-term health care facilities in the United States and the United Kingdom. The REIT has performed well over the past few years. In addition to its recent performance, Omega Healthcare has enhanced its annual payout more than 150% over its past 16 years of consecutive annual dividend hikes to average an annual growth rate of 6%.
Omega Healthcare has demographics on its side, since the aging "baby boomer" population, composed of those born between 1946 and 1964, increasingly will need the skilled nursing and assisted living facilities.
Despite the REIT's many positive performance metrics, Skousen is monitoring for any indicators that Omega Healthcare might see defaults on its triple-net-lease loans to nursing homes and assisted living facilities, as occurred in Texas a few years ago. Omega Healthcare also is among the health care REITs that individually have reported dozens of cases of COVID-19 among patients and staff at their facilities.

"Until this crisis, Omega was doing extremely well, with profit margins of 37%," Skousen said. "The stock hit $42 a share in January. Suddenly, it fell in half. Nonetheless, on Thursday, March 19, Omega Healthcare rallied almost 50% in one day. That's how crazy this market has gotten."
Chart courtesy of www.StockCharts.com
Bank of America cut its price target for the REIT to $23 from $24 on April 24, following a reduction to $37 from $38 on April 8 by Scotiabank GBM. Omega Healthcare reported $315 million in cash on its balance sheet and $738 million available under its credit facility, as of March 27, so it has a financial cushion to help it weather the COVID-19 crisis.
Enterprise Products Partners Named One of 9 Best Dividend Stocks to Buy
Along with many of its peers in the pipeline industry segment, Houston-based midstream energy producer Enterprise Products Partners L.P. (NYSE:EPD) has been hurt by the sharp decline of oil prices in 2020. However, the share price pullback has boosted EPD's current dividend yield to 10.63%.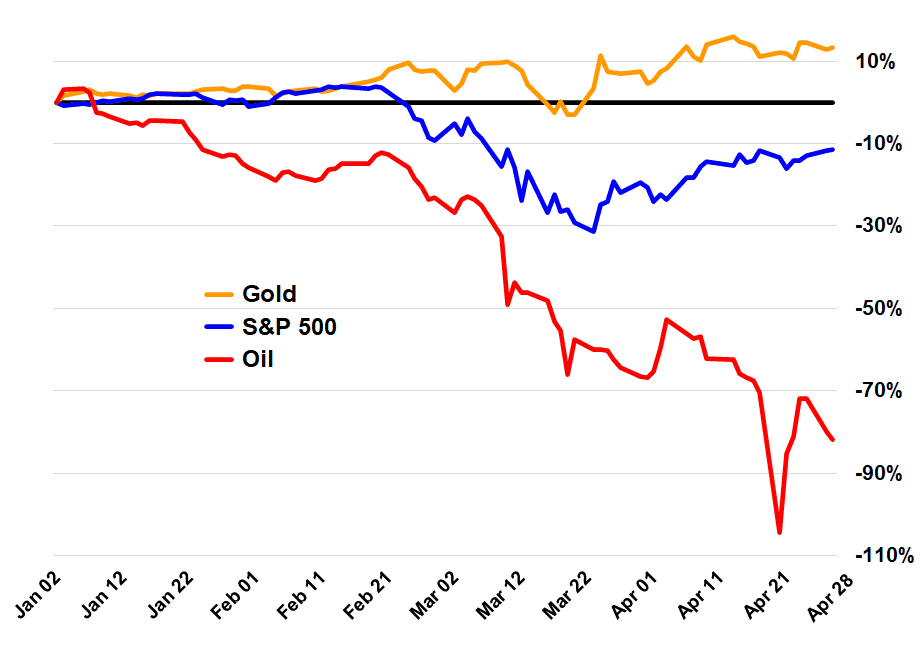 Chart by Ned Piplovic
The chart above shows how much oil prices have declined compared to gold and stocks since the beginning of the year. Attempting to prevent further oil price degradation, President Trump brought the feuding oil producers of OPEC, Russia and other non-OPEC countries together for talks that led to a recent agreement to cut output. The deal calls for a production cut of 9.7 million barrels per day (mb/d) from May 1-June 30, then 7.7 mb/d from July 1-Dec. 31 and finally 5.8 mb/d from Jan. 1, 2021-April 30, 2022.
However, Enterprise Products Partners could rebound quickly if the oil price decline reverses. On March 18, the company's board of directors declared a $0.455 distribution per common unit, which is 4% higher than the $0.4375 payout from the same period last year. The quarterly distribution is equivalent to a $1.82 annual amount and will be payable on Tuesday, May 12, 2020, to unit holders of record at the close of business on Thursday, April 30.
"Enterprise is currently reviewing its capital expenditure program due to the potential impacts of lower commodity prices and demand on our customers," said A.J. "Jim" Teague, co-chief executive officer of Enterprise's general partner. "While substantially all of our major growth capital projects are supported by long-term bi-lateral agreements, we are in discussions with our customers and evaluating opportunities to reduce or defer capital expenditures, as well as continuing to explore joint venture opportunities with strategic partners. We will provide an update to our 2020 capital expenditure guidance in our first-quarter 2020 earnings announcement."
That first-quarter 2020 earnings report is expected on Wednesday, April 29, 2020, before the New York Stock Exchange opens for trading. Enterprise Products Partners remains a preferred dividend investment of Skousen, who views it as in "much better financial shape" than ExxonMobil (NYSE:XOM).
"The biggest challenge is the glut in oil production due to a slowdown in demand in the past month," said Skousen, who predicted that EPD will bounce back sharply once the current crisis passes.
Chart courtesy of www.StockCharts.com
9 Best Dividend Stocks to Buy Now: High Income
Seasoned Wall Street trader Bryan Perry, who heads the Cash Machine advisory service, tracks high-yield stocks closely and compiled his own three favorites. Perry's picks span several sectors and include a medical stock, an industrial logistics provider and a business development company (BDC).
Serious debate about the veracity of the models forecasting caseload and mortality rates surrounding COVID-19 disease are providing for further upside momentum to the stock market and high-yield assets, Perry told me.
"The pandemic is not having the plague-like impact on society that was forewarned, since it is becoming apparent that the number of people infected is exponentially higher than predicted," Perry said. "As such, several states are moving forward with reopening of businesses and public use areas — whereby best practices are required."
Right or wrong, America is starting to get back to business in certain states at the direction of their respective governors and self-quarantine is easing in many parts of the country. In Perry's view, the reduced restrictions could be analogous to providing fresh oxygen for what already has been a big rally off the March 23 low.
Perry, who formerly worked as a high-yield junk bond broker at Bear Stearns and Lehman Brothers in the 1980s and also leads the Hi-Tech Trader advisory service, told me he has focused on finding high dividend yields for three-plus decades.

Global Medical REIT Listed in 9 Dividend Stocks to Buy
The Global Medical REIT (NYSE:GMRE) selectively acquires licensed, all-purpose health care facilities and leases them to clinical operators under long-term, triple-net leases in which the tenant pays all the expenses of a property including real estate taxes, building insurance and maintenance. The company is seeking to tap into a 5.4% annual increase in U.S. health care spending projected for 2019-28 by the U.S. Department of Health and Human Services. The total is expected to reach $6.2 trillion by 2028.
National health expenditures are forecast to grow an average of 1.1 percentage points faster than gross domestic product (GDP) per year from 2019-28. In addition, health care's share of the economy is pegged to rise from 17.7% in 2018 to 19.7% in 2028.
One reason is that outpatient surgeries are surging. The worldwide market for Ambulatory Surgery Center procedures is expected to reach a cumulative annual growth rate (CAGR) of roughly 4.9% for the next five years to $103,700 million in 2024, compared to $77,800 million in 2019.
The latest health care trends are driving new REIT structures. Global Medical's acquisition strategy aligns with America's aging population and demand for decentralized health care services. Global Medical operates 101 facilities with a 99.8% occupancy rate from 41 tenants that occupy 2.8 million square feet of space and average 8.8 years left on the lease terms, Perry said.
The company's 2019 revenues rose 32.7% year-over-year to $70.5 million, spurred by acquisitions. Global Medical's quarterly dividend of $0.20, equaling an annualized rate of $0.80 per share, gives it a current dividend yield of 7.4%.
Chart courtesy of www.StockCharts.com
9 Dividend Stocks to Buy Include Industrial Logistics Properties Trust 
Consumers and businesses are shifting their shopping to online platforms where "just-in-time" delivery of goods is a key part of today's strategies, Perry said, Therefore, REITs focused on industrial logistics are showing strong growth from the expansion of ecommerce distribution, he added.
Out of approximately 15 publicly traded REITs that offer industrial logistics, Perry identified Industrial Logistics Properties Trust (NASDAQ:ILPT) as the "purest play" in the group. ILPT offers a current dividend yield of 7.6% and owns 300 properties that occupy nearly 43 million square feet.
ILPT owns vast land holdings in Hawaii on the island of Oahu, between downtown Honolulu and the airport. The company leases the land and buildings that account for roughly 60.8% of total leased space where long-term rent increases have a history of recession resistance. Mainland properties are in 29 states, with Amazon.com (NASDAQ:AMZN) as its largest tenant.
Normalized funds from operations (FFO), for the quarter ended December 31, 2019, reached $0.46 per share on a 47.8% year-over-year increase in revenues to $62.2 million. At the end of the third quarter, 99.5% of ILPT's total rentable square feet was leased to provide stable income in a domestic sector that is seeing 17.6% annual growth. The stock pays an annual dividend of $1.32 to provide a current dividend yield of 7.6%.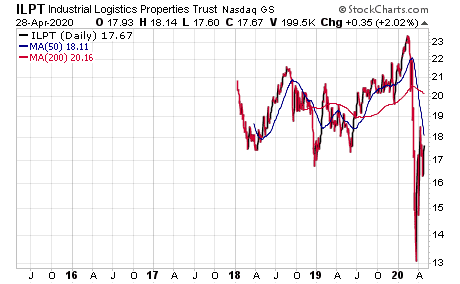 Chart courtesy of www.StockCharts.com
Hercules Technology Growth Featured with 9 Dividend Stocks to Buy
Hercules Technology Growth Capital (NYSE:HTGC) — Perry's third pick — is a specialty finance company based in Palo Alto, California, that provides debt and equity funding to venture capital and private equity-backed technology and life science companies. Founded in 2003, the company is guided by a team of 13 managing directors and principals who collectively have more than 280 years of venture capital and specialty technology investing experience.
The strong rebound in the technology sector during the past two years boosted HTGC's financial results until the recent coronavirus-related pullback, Perry said. To maintain its status as a business development company (BDC) and enjoy the benefit of zero corporate tax liability, HTGC is required by law to pay out 90% of its net income to shareholders. The BDC's current $1.28 annualized distribution corresponds to a 13.0% dividend yield.
Chart courtesy of www.StockCharts.com
With a stock market crash rebound occurring amid the current coronavirus pandemic, investors who have cash available may want to consider investing in some or all these nine companies identified by three seasoned investing professionals. These recommended companies consistently pay dividends and are likely to benefit from rising share prices, too. In a volatile stock market, dividend-paying stocks offer a bit of insulation from the worst of any plunges since they tend to fall less than non-dividend payers.
10 Ways to Identify the Best Dividend Stocks
Finally, the use of indicators helps to identify the best dividend stocks from thousands of available equities. Investors should narrow the selection of potential top dividend stocks to buy by focusing on those with a positive long-term outlook. No single indicator or financial metric can identify the absolute best candidates.
The 10 indicators to help find the best dividend stocks to buy consist of:
Stable Revenue and Revenue Growth Outlook
Profitability
Dividend Payout Amount
Dividend Yield
Dividend Payout Ratio
Dividend Coverage Ratio
Dividend Payout Frequency
Rising Dividends
Dividend Growth Rate
Debt
Keep in mind that equities that qualify as the best dividend stocks to buy for one investor's portfolio strategy may not meet another investor's distinctive portfolio goals. Therefore, investors should try to use several indicators and gather well-reasoned recommendations to identify the best dividend stocks to buy.