Kevin O'Leary, one of the wealthy panelists on the "Shark Tank" television program who entrepreneurs pitch to fund the growth of their start-up businesses, said he supports the Trump administration's efforts to gain fair access to the Chinese market and protection of U.S. intellectual policy from all-too-common knockoff products.
Any short-term sacrifices, such as the loss of U.S. agricultural exports, will be worth it to achieve those key goals, said O'Leary, who also is the chairman of O'Shares Investments. O'Leary told me in a recent interview that the dozens of businesses he backs that manufacture goods in China have been victimized by the theft of intellectual property that is used by the Chinese to create similar products, then sell them in direct competition with the Western company that funded the research and development.
The result is reduced revenues and earnings for the American companies whose intellectual property is violated, O'Leary told me. Since women entrepreneurs predominantly receive his backing due to their track record of growing businesses profitably for him, they are particularly hurt by China's unfair trade practices, he added.
Kevin O'Leary Urges Protection of U.S. Intellectual Property to Grow Jobs
If a U.S.-China trade deal achieves both goals of gaining market access and ending the theft of U.S intellectual property (IP), O'Leary told CNBC in an Aug. 6 interview that he would immediately hire Chinese attorneys to represent the interests of his businesses there and begin selling 30 products to the Chinese middle class that his ventures make. Such moves would include the hiring of hundreds of people in China and others in the United States to handle the logistics, he added.
"The upside is immense for the S&P if we get this deal done," O'Leary said in that interview. "Keep squeezing their heads. Don't stop."
Whether or not people like President Trump personally, his administration is the first to take on China to seek "fair trade" in the 15 years O'Leary said he has been doing business there.
Kevin O'Leary Urges Protection of U.S. Intellectual Property to Halt Knockoffs
O'Leary told me in our July 18 interview in the Shark Bar at the Palms Casino Resort in Las Vegas that "every time one of his businesses manufactures a consumer product in China, the goods are "knocked off" by the Chinese and sold domestically there.
"They basically run the factory for eight hours with your product and sell it to their domestic market and there is nothing you can do to stop them," O'Leary told me.
The production lines run 24 hours and they bring another line in to knock it off to sell domestically, O'Leary said. However, the Chinese now are getting more aggressive by taking the product and selling it to the United States as a knockoff, he complained.
Kevin O'Leary Urges Protection of U.S. Intellectual Property by White House
"I've been to the White House twice on this," O'Leary said.
The Chinese have been pursuing these unfair trade practices for more than 10 years, O'Leary said.
"I can't litigate them," O'Leary said. "I can't stop them. It is so unfair and unbalanced."
Ban China from Raising Capital in the United States, O'Leary Recommends
To combat the stealing of intellectual property, O'Leary said he wants Chinese companies to be banned from raising capital in U.S. markets while these practices persist. In addition, Chinese companies should be prevented from listing on U.S. markets and all existing listings should be removed, O'Leary recommended.
To dramatize his view that corrective action is needed, O'Leary used the term "DEFCON" in his interview with me to show his seriousness. The defense readiness condition (DEFCON) is a state of alert use by U.S. armed forces to indicate the level of preparedness to respond to a threat.
The DEFCON alert system, developed with the Joint Chiefs of Staff, increases from the least severe, DEFCON 5, to the most severe, DEFCON 1, based on the level of threat. Even though O'Leary is a businessman, he used the terms to indicate his view that the Chinese only will respond to "brute force" and that its leaders lack any interest in fairness for their trade partners.
Paul Dykewicz interviews "Mr. Wonderful" Kevin O'Leary at the Palms Casino Resort in Las Vegas; Photo credit: John Phillips
Kevin O'Leary Urges Protection of U.S. Intellectual Property Beyond Tariffs
Forget about just applying tariffs, instead ban all Chinese products from export into the United States while the trade dispute is ongoing, O'Leary said.
"I've already moved half of my production to Vietnam," said O'Leary, who added he does not accept the belief that China has as much negotiating leverage as its leaders apparently think they do.
O'Leary said he was starting to transfer the production of goods from China to Vietnam before the tariffs to save "30 percent" on the cost of manufacturing.
"Let's take these guys on," O'Leary said.
When asked if China might slow or block the export of rare Earth metals to the United States that are used in a variety of electronics, O'Leary said America has its own supply of such special metals and could expand its development of that industry domestically.
Where Else Would China Put Its Reserve Currency Rather than in U.S. Debt?
If China retaliates by not buying U.S. debt, where would it put its reserve currency? O'Leary asked rhetorically.
"Are you going to put it in your own currency while you are getting wiped out and your growth rates and gross domestic product are falling?" O'Leary inquired.
"I'm not worried about that part, because they'd rather own American dollars than anything else on Earth," O'Leary said.
U.S. negotiators should bluntly explain to their Chinese counterparts the potential fallout from continuing their unfair trade practices against Western businesses, O'Leary said.
"You're going to have people in the streets who are going to want to kill you when your economy goes to 2 percent growth," O'Leary said. China's gross domestic product is forecast to slip this year to 6.2 percent, down from 6.6 percent in 2018 and 6.8 percent in 2017.
Kevin O'Leary Urges Protection of U.S. Intellectual Property and Fair Trade
U.S. and Chinese trade negotiators have addressed key trade issues without reaching an agreement so far. Top U.S. concerns, according to the White House, include:
Ways in which United States companies are pressured to transfer technology to Chinese companies;

A need for enhanced protection and enforcement of intellectual property rights in China;

The numerous tariff and non-tariff barriers faced by United States companies in China;

Harm resulting from China's cyber-theft of United States commercial property;

How market-distorting forces, including subsidies and state-owned enterprises, can lead to excess capacity; and

The need to remove market barriers and tariffs that limit United States sales of manufactured goods, services and agriculture to China.
Kevin O'Leary Urges Protection of U.S. Intellectual Property Such as Illumibowl
Illumibowl is a product backed by O'Leary that used China as a manufacturing base and quickly faced knockoff products based on its technology, he told me. In a YouTube video, Illumibowl described itself as the "original toilet light."
The device is motion-activated to turn on a night light featuring one of 20 possible colors to help a person who enters the bathroom avoid flipping on a light switch. O'Leary said the product is especially helpful to "young guys" who are learning how to urinate into the toilet bowl and older men whose eyes may not be as keen as they were years ago.
Once O'Leary learned about knockoff products in China that used the same technology, he said he contacted Amazon.com to have the sale of those other products based on Illumibowl's technology removed. Amazon complied with the request but China-based Alibaba did not, he added.
O'Leary said the Chinese knockoffs target cutting-edge consumer products that Western manufacturers build there, based on his experience.
Kevin O'Leary Urges Protection of U.S. Intellectual Property in Call to Kudlow
O'Leary said he responded by calling Larry Kudlow, the chief economic adviser at the White House, to complain.
"I called up Kudlow and said tell Trump let's go to DEFCON 5," O'Leary said.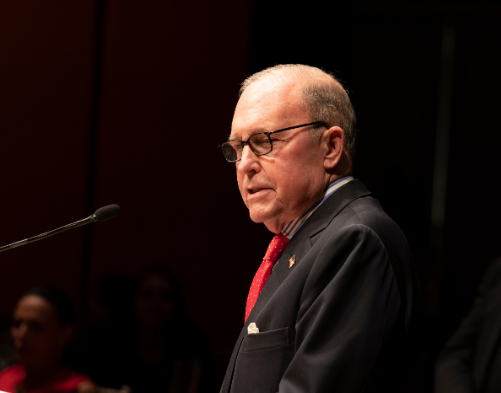 White House Chief Economic Adviser Larry Kudlow
O'Leary said his experience with Vietnamese business partners has been good.
"Vietnamese guys are smart," O'Leary said. "Send somebody over there who can speak French and knows the local market. They play by the rules and they want to be your friend. The Chinese cheat and steal. They don't even understand the rule of law."
If a company is growing at 30 percent and the Chinese knock off its product, the growth easily could drop to 10-11 percent," O'Leary said.
Because of Chinese knockoffs, many companies are just manufacturing components in China and then assembling the product in America, so the Chinese have an obstacle to figure out how to build it properly, O'Leary said.
Others Support O'Leary's Interest in Protecting U.S. Intellectual Property
China's theft of intellectual property is an important economic issue for the United States and other Western nations but change is unlikely in any "reasonable time frame" because the Asian nation's leaders seem to have "no intention" of abiding by Western laws and values, said Bob Carlson, who leads the Retirement Watch advisory service.

"Tariffs aren't the best way to deal with the problem," Carlson said. "Other tools are available that have been used by the administration but only to a small extent. National security laws can be used to prohibit U.S. companies from dealing with Chinese companies identified by the U.S. and to prevent U.S. companies that have sensitive technology or other intellectual property from dealing with China at all. The U.S. also should document China's abuse of the rules and publicize the actions through the various international organizations that hear disputes about these issues."

In hindsight, China should not have been admitted to the World Trade Organization because it did not abide by the rules and had no intention of doing so, Carlson said. The United States could begin campaigning to have China removed from the WTO if the country does not reform, he added.
"The move is unlikely to succeed, but the publicity might elicit some reform," Carlson said.
Escalation May Aid O'Leary's Goal of Protecting U.S. Intellectual Property
Hilary Kramer, who leads the Value Authority, GameChangers, Turbo Trader, High Octane Trader and Inner Circle advisory services, said it sometimes takes "escalation" to attain results through negotiation.
"There's no real downside now to fighting a little harder for U.S. intellectual property," Kramer said. "From Wall Street's perspective, the baseline scenario already assumes a complete scorched-earth trade meltdown. At this point, stocks like Apple are priced to lose up to half their Chinese markets permanently. We've already sacrificed that market capitalization. Now it's time to get something for it."
Kramer named Cisco Systems, Inc. (NASDAQ:CSCO), which offers a current dividend yield of 3.0 percent, as an appealing stock in a "trade war situation." The company has "struggled in recent years" as low-cost Chinese competitors undercut the company on pricing, she added.
"Without those rivals underselling Cisco for Western accounts, the company can finally get back to work pushing the technological frontier: more ports, more connectivity and faster communication speeds," Kramer said.
Apple Has Options to Build its iPhones Outside of China
Companies such as Apple Inc. (NASDAQ:AAPL), which offers a current dividend yield of 1.5 percent, could "liberate" themselves from dependence on Chinese manufacturing facilities by moving production elsewhere, Kramer said.
"I know [CEO] Tim Cook can effectively redistribute all production to Thailand or Vietnam on a moment's notice, for example," Kramer said. "Assembly is not a problem."
However, a risk exists that Chinese consumers may stop buying Apple's iPhones, either because tariffs finally push them over the edge of affordability or because China's leaders in Beijing simply force out the company's products, Kramer said.
"In that situation, about 15 percent of current revenue is at risk," Kramer said. "Apple is down 12-15 percent from its peak on a given day. That feels like a reasonable tradeoff for the worst-case scenario."
Vice President Mike Pence told attendees at the Detroit Economic Club on Monday, Aug. 19, that China has been put on notice by the Trump administration that the era of economic surrender is over. For businessmen such as O'Leary who see the long-term threat of China's trade policies to the United States, as well as near-term damage from the outright theft of intellectual property, the time has come for the United States to insist on fair trade terms to ensure a mutually advantageous deal.
Publisher's Note: Special thanks goes to Mark Skousen for inviting Kevin O'Leary of "Shark Tank" to speak at this year's FreedomFest in Las Vegas. StockInvestor.com and Eagle Financial Publications were premier partners at July's FreedomFest event. Mark founded FreedomFest in 2007 to bring together the best and the brightest thought influencers from around the world to talk, strategize, socialize and celebrate liberty. With this year's impressive attendance of 1,920 people, the three-day festival continues to live up to its billing as "the world's largest gathering of free minds." You can learn more about FreedomFest by clicking here to reach the official website.
Paul Dykewicz, www.pauldykewicz.com, is an accomplished, award-winning journalist who has written for Dow Jones, the Wall Street Journal, Investor's Business Daily, USA Today, the Journal of Commerce, Seeking Alpha, GuruFocus and other publications and websites. Paul is the editor of StockInvestor.com and DividendInvestor.com, a writer for both websites and a columnist. He further is the editorial director of Eagle Financial Publications in Washington, D.C., where he edits monthly investment newsletters, time-sensitive trading alerts, free e-letters and other investment reports. Paul previously served as business editor of Baltimore's Daily Record newspaper. Paul also is the author of an inspirational book, "Holy Smokes! Golden Guidance from Notre Dame's Championship Chaplain," with a foreword by former national championship-winning football coach Lou Holtz. Follow Paul on Twitter @PaulDykewicz.